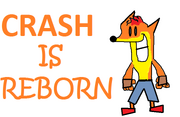 Crash Bandicoot Rebirth
is a upcoming game. It is still in development, so not much is known about it. It is confirmed to feature classic elements and the Titans will be removed.
A evil copy of Crash known as Titan Crash came to N.Sanity Island with along of other copies of Crash's friends and enemies and wreaked it and made their own games. Meanwhile, Crash and Aku Aku are locked in the ancient chambers of Naughty Dog. One day, a huge explosion goes off and it wakes up Crash and Aku Aku and they escape the chambers and throw the Titan characters into Twinsanity Island. While Crash and Aku Aku serach for the other classic characters, the classic Dr. Cortex is back and eviler than ever...
The gameplay is very similar to the first three games. You play as Crash most of the time and you can spin, slide and jump. Every time you beat a boss, you gain a new ability. There are also gems and relics, but there is a new item to collect which is shields, which are obtained by defeating every enemy in each level. They are also challanges which unlock character bios, costumes, characters and many more. One of the challanges involve jumping on a giant TNT and then running away from the explosion.
Characters
Edit
Crash Bandicoot- The original Crash. He is almost exactly the same to the original, only his jeans have been redesigned and he looks more like Twinsanity crash.
Aku Aku- Joining Crash on his journey to find the others, Aku Aku is here to once again protect Crash from evil. He is found in crates like in the originals.
Spyro The Dragon- Spyro has also come on Crash's Journey to help him.
Dr. Neo Cortex- Appears in the game the final boss. Nina is Dr. Cortex's beloved neice..
N.Gin- N.Gin returns along with Dr. Cortex. He two was buried under the sand and he has gone to work on a new evil lair.
N.Brio- Once again on Crash's side, N.Brio returns to get ultimate revenge. This is the first time N.Brio is playable in platformer game.
Tiny Tiger- The fourth boss. Tiny is one of Cortex's minions. He is alot stronger than Crash, but still fails to defeat him.
Ripper Roo- The first boss. Ripper Roo is an insane kangaroo who was locked in the chambers of Naughty Dog.
Koala Kong- The second boss. Koala Kong is a mutated koala who has superhuman strength and uses it to destroy Crash.
| | | | | |
| --- | --- | --- | --- | --- |
| Name | Description | Lives | Difficulty | Character you be. |
| Ripper Roo | Ripper Roo is an insane kangeroo who constantly jumps up and down much like kangeroos. | 3 | Easy | Crash Bandicoot |
| Koala Kong | A big and strong Mighty Koala who was one of the guys who escaped the Envolve-o Ray. | 3 | Easy | Crash Bandicoot |
| Tiny Tiger | A hungry and giant Tasmainian tiger who loves to Squash any type of Small Bandicoot. | 3 | Medium | N.Brio |
| Dingodile | Dingodile is a Scary Dingo/Crocodile who later gets chased away by Spyro once dingodile is deafeated. | 5 | Medium | Spyro The Dragon |
| N.Tropy | A time changing master who can change time any TIME!. Note: He Has some swords in this game. | 5 | Hard | N.Brio |
| N.Gin | N.Gin is in a spaceship so destroy it as Crash Bandicoot. | 3 | Hard | Crash Bandicoot |
| Dr. Cortex | The hardest boss. He is guarded by Uka Uka, but you are also guarded by Aku Aku. | 5 (first), 20 (second) | Intense | Crash Bandicoot |
Playable Characters
Edit
Crash Bandicoot- He can spin and Kick, What's wrong with this guy everyone.
N. Brio- N.Brio has the ability to drink some of his test tube liquid and turn into different things.
Spyro The Dragon- He can breath fire and curl into a ball and roll around.